Title:
The Fault in Our Stars
Author:
John Green
Published:
2012
Publisher:
Dutton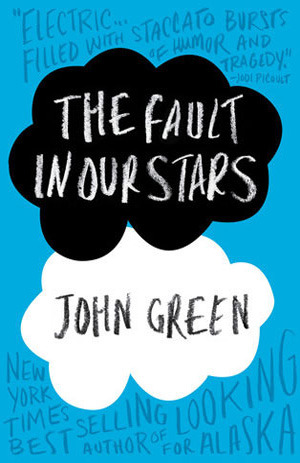 Despite the tumor-shrinking medical miracle that has bought her a few years, Hazel has never been anything but terminal, her final chapter inscribed upon diagnosis. But when a gorgeous plot twist named Augustus Waters suddenly appears at Cancer Kid Support Group, Hazel's story is about to be completely rewritten.

Insightful, bold, irreverent, and raw, The Fault in Our Stars is award-winning author John Green's most ambitious and heartbreaking work yet, brilliantly exploring the funny, thrilling, and tragic business of being alive and in love.
This review has been a long time coming. I originally read this book in 2013, just before the masses converged on it, and before I had anyone to talk about it with. Queue early 2014, when the explosions hit, and I find myself with equally excited friends that I could speak to this book about.
It was fantastic.
(But then I went and lent the book out, and I haven't had it back since. It's been almost 12 months.)
Anyway, I watched the film last night, so I decided that it was about high time I wrote a review for it.
Where to start? Since reading this book, my connection with cancer has increased tenfold.
My mother is a survivor of cancer. My friend's big brother is winning his battle. My nan is losing hers.
It didn't hit me until last night, when I sat watching the pre-funeral, how that's going to be the position I'm in in less than six weeks time. And it's going to hurt like hell, because, you know, that's the thing with pain, right? It demands to be felt.
There's a hell of a lot I could say about this book, about the characters. About Gus, who was so pretentious that you don't realise how much until you start imaging the scenes in your head and your like, "is this really him?". Who fears oblivion, who wants to do things by himself, doesn't want to become another unremembered casualty in the ancient and inglorious war against disease.
About Hazel, who shares her name with my nan, who's devotion to her favourite book, characters and author feels so real and palpable that it reminds me of my own. Hazel, who understands that not everybody gets a miracle, let alone multiple.
Isaac, who takes everything in his stride, doesn't let his new life take away the aspects and teachings of his old.
Van Houten, who got lost in his grief and came out with the wrong perspective, the negative outlook, the vicious and completely understandable reaction for one who has suffered so deeply and so largely.
TFiOS shows not only the horrible, dark and corrupt side effects of living with cancer, of being friends with the inevitable, but it also shows that it's not all bad. There are good days, days that are humorous, days where the pain is lessened, days where it's possible for days to just be days, and not numbered.
The sense of humour in this book is twisted, an undeniable side effect of dying, but it's also true. It's probably what is so appealing about this book.
I have so many respects to pay to Esther, to all of the countless, innumerable and nameless deaths, and please, if you can in anyway help fight this and raise awareness, please do so. Cancer has taken so many lives, don't let it take any more.
My favourite quote;
"You do not immortalize the lost by writing about them. Language buries, but does not resurrect."
Nan, I love you and I always will, and I'm so proud of you for lasting this long and not giving up, even when you know the inevitable waits for you, even when you've gone through so much pain and therapy that will have ultimately been for nought, when you've been angry at us and the world for this unfair injustice bestowed upon you.