Title:
All the Bright Places
Author:
Jennifer Niven
Published:
2015
Publisher:
Knopf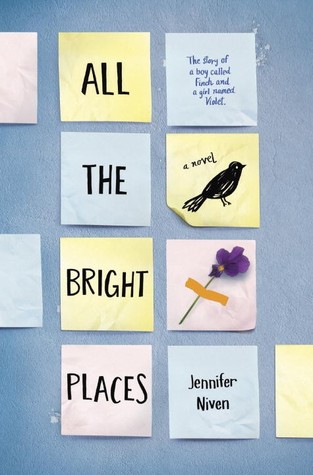 Theodore Finch

is fascinated by death, and he constantly thinks of ways he might kill himself. But each time, something good, no matter how small, stops him.

Violet Markey

lives for the future, counting the days until graduation, when she can escape her Indiana town and her aching grief in the wake of her sister's recent death.

When Finch and Violet meet on the ledge of the bell tower at school, it's unclear who saves whom. And when they pair up on a project to discover the "natural wonders" of their state, both Finch and Violet make more important discoveries: It's only with Violet that Finch can be himself—a weird, funny, live-out-loud guy who's not such a freak after all. And it's only with Finch that Violet can forget to count away the days and start living them. But as Violet's world grows, Finch's begins to shrink.
New York Times bestselling author Jennifer Niven has always wanted to be a Charlie's Angel, but her true passion is writing. Her most recent book, All the Bright Places, is her first novel for young adult readers and tells the story of a girl who learns to live from a boy who intends to die. All the Bright Places is the #1 Kids' Indie Next Book for Winter '14-'15, an Amazon.com editor's Pick/Best Book of the Month, and a New York Timesbestseller.
With her mother, author Penelope Niven, Jennifer has conducted numerous seminars in writing and addressed audiences around the world. She lives in Los Angeles.
First of all, I absolutely LOVED this book. Violet taught me so many things- but, most importantly, the understanding that it was okay, and normal, to have one tragic accident completely snuff out your heart and soul and passion.
One absolute truth about this book is the way that it's advertised: an 'exhilarating and heart-wrenching love story about a girl who learns to live from a boy who intends to die.' That's it. That's the whole story.
Except it's also not! Because we're transported into Indiana, into their lives, into their homes and their heads. It reminded me very much of Dash and Lily's Book of Dares due to the alternating chapter point of views, except this was not a collaborate effort, and both - wonderful - voices came from Niven herself.
It isn't a conventional romance, either;
*spoiler alert*
Violet doesn't save the guy, doesn't get her happy ever after with him, but she does
grow
from him- if anything, he is her
Germ.
All the Bright Places
was a wonderful read; it was awe-inspiring, and filled with so much sadness that it was unbearable at times (in a good way, though, I promise!)
I must admit, at first I kept finding Finch a bit pretentious, with his ever changing persona and attitude. But, still, I couldn't help but love and cherish him. Even through all those changes, he was the same Finch.
Violet was different, I liked her from the get go- except she became frustrating as time went on. Not because of the way she was written, I mean her as a character and what she was doing- really, it was just the glasses thing. That was it. It just really got on my nerves, for whatever reason. I just wanted to take them off her head and hurl them out the window, or stamp on them.
Those things didn't detract from my enjoyment of this book. It was beautifully written, and I even shed tears. (Which I do a lot, but shh. It's still an achievement.) I also put multiple quotes of it on my quote wall, and there's only one author author with more than one quote on there. So, yeah. This book is pretty dang good.
I'd give this a billion stars if I could, but, you know, I can't so I'm going to have to settle for five. (Out of five, of course.)
"No more winter at all. Finch, you brought me spring."
"But I bring it up to let you know that this is the way I feel right now. Like Pluto and Jupiter are aligned with the earth and I'm floating."
"All I know is what I wonder: Which of my feelings are real? Which of the mes is me? There is only one me I've ever really liked, and he was good and awake as long as he could be."
"The thing I realize is that it's not what you take, it's what you leave."
"I walk through the black Indiana night, under a ceiling of stars, and think about the phrase "elegance and euphoria," and how it describes exactly what I feel with Violet. For once, I don't want to be anyone but Theodore Finch, the boy she sees. He understands what it is to be elegant and euphoric and a hundred different people most of them flawed and stupid, part asshole, part screwup, part freak, a boy who wants to be easy for the folks around him so that he doesn't worry them and, most of all, easy for himself. A boy who belongs - here in the world, here in his own skin. He is exactly who I want to be and what I want my epitaph to say: The Boy Violet Markey Loves."