Title: Simon vs. the Homo Sapiens Agenda
Author:
Becky Albertalli
Published:
April, 2015
Publisher:
Balzer + Bray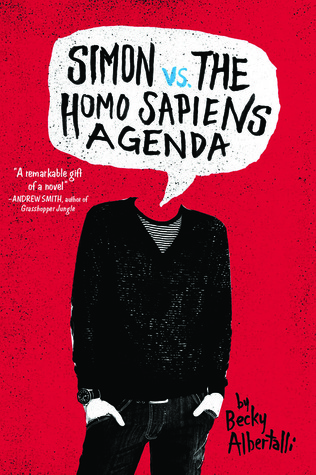 Sixteen-year-old and not-so-openly gay Simon Spier prefers to save his drama for the school musical. But when an email falls into the wrong hands, his secret is at risk of being thrust into the spotlight. Now Simon is actually being blackmailed: if he doesn't play wingman for class clown Martin, his sexual identity will become everyone's business. Worse, the privacy of Blue, the pen name of the boy he's been emailing, will be compromised.




With some messy dynamics emerging in his once tight-knit group of friends, and his email correspondence with Blue growing more flirtatious every day, Simon's junior year has suddenly gotten all kinds of complicated. Now, change-averse Simon has to find a way to step out of his comfort zone before he's pushed out—without alienating his friends, compromising himself, or fumbling a shot at happiness with the most confusing, adorable guy he's never met.
Becky Albertelli was born and raised in Atlanta, and has been writing stories since childhood. She was (and still is) an avid reader with an undying love for Harry Potter. Albertelli majored in psychology and eventually earned a doctorate in clinical psychology; although she is a licensed psychologist, she is not currently practising.
I fell in love with this book. I haven't read one so fast in such a long, long time; it honestly helped me get back into reading. I haven't done much over the last few months due to exams and personal issues, so this book was like a breath of fresh air.
Simon, the protagonist and narrator, is as funny as he is almost callous.
What really got to me, however, was the humour, the parents, and the humour of the parents. In some weird coincidence, in this book Simon shows his parents a picture of his first girlfriend, and the father's response is 'That girl has some eyebrows.' And, funnily enough, shortly after reading this, I showed my mum a picture of my first girlfriend.
Guess what her response was?
'Jeez, look at her eyebrows.' It was as creepy as it was amusing.
It wasn't just the humour, however; this book, I felt, challenged me- or at least, challenged my perceived notion of society. We all have stereotypical archetypes when we think of homosexuals, or cheerleaders- even if you deny it, you would still have that stock character (whether imaginary or real) that you refer to.
And this book challenges that. It doesn't let you be right about your thoughts of each character, and I love it. The unexpected do the unexpected, and those people you think are good are intentionally not.
I also loved how current this book was kept. There were references to social media of this time - Tumblr, Twitter, and then the attitude that reflects youths of now 'I can't even', 'OMG', that sort of lingo. It added to the humour and the overall feel of the text, really reinforcing the fact that it was a teenager's whose perspective we are reading from. Albertalli really captured a modern day sibling relationship.
Rating: 5/5
"He talked about the ocean between people. And how the whole point of everything is to find a shore worth swimming to."
"The way I feel about him is like a heartbeat -- soft and persistent, underlying everything."